Recognize the Early Signs
Expedite early diagnosis by recognizing the early hallmark symptoms of CLN2 disease
New-onset, unprovoked seizures
Unprovoked seizures occur between the ages of 2 and 4 and are the symptom that most often leads parents/caregivers to seek medical attention1,2
Initial new-onset, unprovoked seizures are commonly generalized tonic-clonic, myoclonic, or atonic2-4

For some children, the first seizure can be febrile in nature
Early language delay
Language delay is one of the earliest symptoms to appear according to recent scientific findings5
Percentage of "Late Talkers" in children with CLN2 disease vs age-matched controls (n=36)5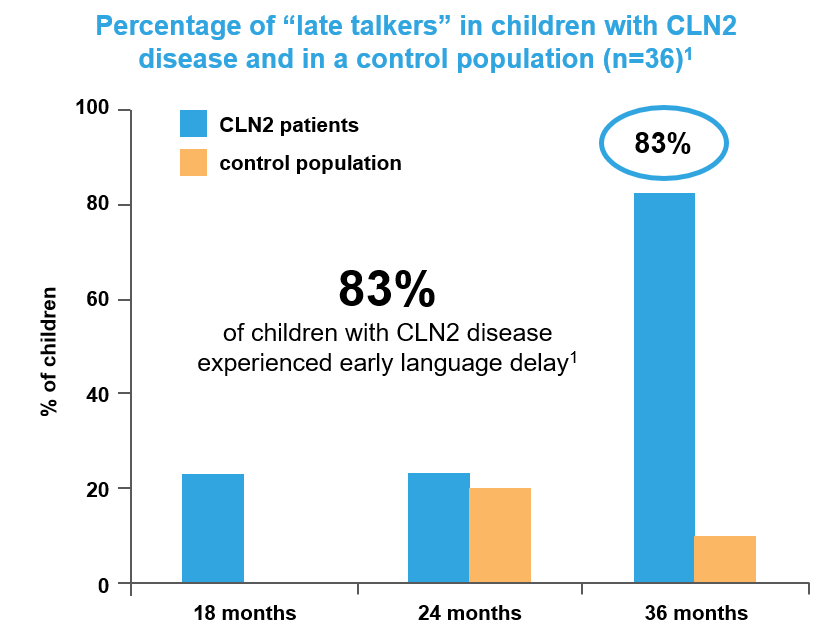 Delay in early language development was defined by the following criteria5:

First single words acquired at 18 months (or later/never)
First two-word sentences at 24 months (or later/never)
First full sentences at 36 months (or later/never)

In contrast, a separate study reported that only 27% of children (aged 3 to 5) who presented with unprovoked seizures had a history of language difficulties6
Motor disturbances
40% report loss of motor abilities (eg, ataxic gait, clumsiness/tripping, or frequent falls) as the first symptom5
Note: Unlike other NCLs, visual impairment isn't typically present until later stages of the disease, well into the neurodegenerative decline of CLN2 disease.3
Electrophysiological and radiological findings may provide early signals of CLN2 disease

Electroencephalogram (EEG) with low-frequency (1-2 Hz) intermittent photic stimulation (IPS) elicits a distinguishing photoparoxysmal response (PPR) in the majority of children with CLN2 disease7
According to a recent study of children with CLN2 disease, PPR was7:
Seen in 60% of children
Identified on the initial EEG in 78% of cases
Detected in time-locked fashion in 63% of cases

Early in the disease, a brain MRI may appear normal or show subtle abnormalities3,8
Abnormalities include: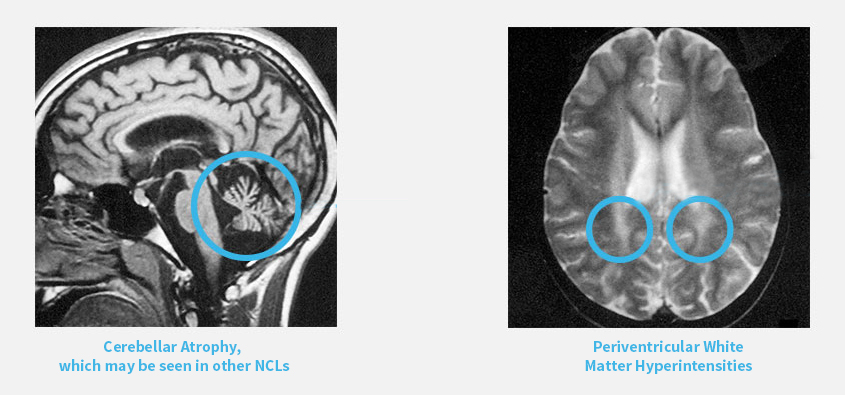 Photos courtesy of Ludovico D'Incerti, MD.
Later in the disease, cerebral atrophy becomes evident.
Not all children with CLN2 disease will exhibit these findings. A definitive diagnosis should be confirmed through laboratory testing.
BioMarin has partnered with Invitae to bring you the Behind the Seizure® program—a no-cost epilepsy gene panel testing program to help you diagnose CLN2 disease early.

In as little as 2 weeks, an epilepsy gene panel test can bring you and your eligible patients closer to identifying if there is a genetic cause behind the seizure.
Visit www.behindtheseizure.com to learn more and to order a test.
The importance of seeing the early signs of CLN2 disease
Dr Angela Schulz, MD, PhD
Children's Hospital
NCL Specialty Clinic
International Center of Lysosomal Storage Disorders (ICLD)
University Medical center Hamburg-­Eppendorf
Hamburg, Germany
A discussion about the early signs of CLN2 disease (new-­onset, unprovoked seizures and language delay) and how earlier diagnosis may benefit the child and their family.